News
New step free access to benefit passengers at Hillside Sefton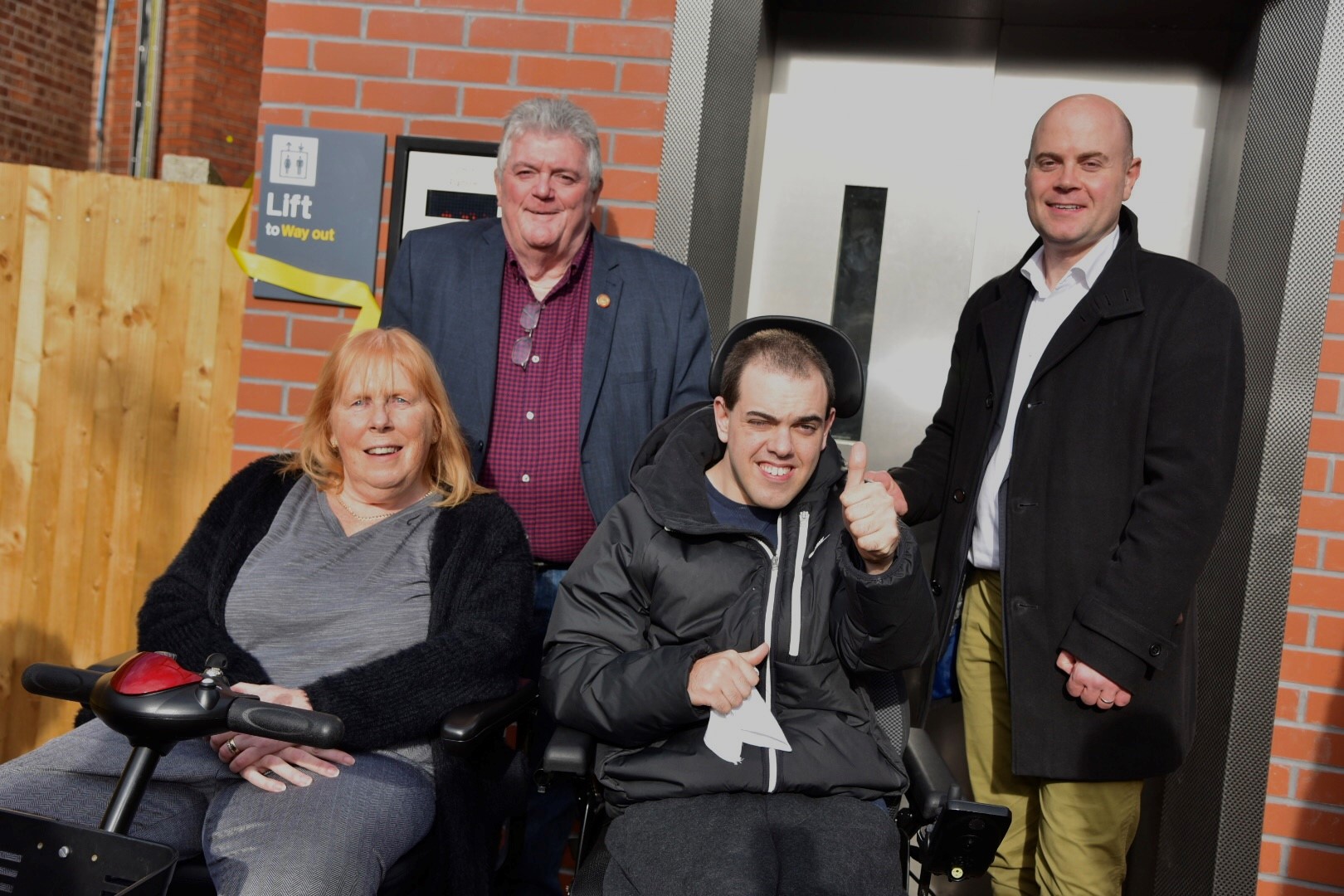 Rail users at Hillside in Sefton will now benefit from a step free route from the street to the platforms with the opening of new lifts at the station.
With their official opening held on 21 October, the 16 person-capacity lifts make it easier to reach the platforms for wheelchair users, people with mobility needs, heavy luggage, bicycles or those with children in buggies.
Additional works to improve accessibility have also been carried out during this project, including a new dual height ticket desk, widened doorways to make waiting shelters accessible to wheelchairs and a refitted accessibility toilet.
Cllr Liam Robinson, Liverpool City Region Combined Authority Transport Portfolio Holder and Cllr John Fairclough, Deputy Leader of Sefton Council, were joined by ward councillors, Jane English, Acting Managing Director of Merseyrail and members of the Southport Access For Everyone (SAFE) group, for the ribbon cutting ceremony.
Completion of the works brings the total number of step free stations in the Liverpool City Region to 60 out of a total of 83.
It's been made possible through funding from the Department for Transport's (DfT) Access for All programme and the Liverpool City Region Combined Authority's Transforming Cities Fund, as part of a wider vision to make the local rail network the most accessible in the country.
As part of this round of investment, Merseyrail passengers can also look forward to greater accessibility as new lifts will be opening at St Michael's station in the next few months, while Northern passengers will benefit when Broadgreen on the City Line has new lifts installed next year. There are also plans for work to start soon on a second lift to the Northern line platform at Liverpool Central.
The Combined Authority has also recently submitted a bid to DfT to make ten more stations step-free between the station and the platform, via the latest round of Access for All funding.
The upgrades align to the Metro Mayor's wider vision of building a London-style transport system for the region that is quick, simple, affordable, and accessible to all. Improving accessibility at stations will also complement the introduction of the city region's new, state-of-the-art trains with pioneering sliding step technology, which are due to be phased into service from later this year.

Cllr Liam Robinson, Transport and Air Quality Portfolio Holder for the Liverpool City Region Combined Authority said:
"Being able to independently travel across our rail network can have a huge impact on people's everyday lives and these new lifts will make it easier for residents in Hillside to access our rail network.
"Making the city region public transport network one of the most accessible in the UK is something Mayor Steve Rotheram has made clear remains an important ambition of ours and it forms a big part of our "Merseyrail for All" plans.
"Our long-term aim is still to make every station step-free from pavement to platform and alongside the work we are already carrying out at St Michaels, Liverpool Central and Broad Green, the recent bid we submitted to DfT for further funding will hopefully help bring us nearer to that target."
Jane English, Acting Managing Director of Merseyrail, said:
"Merseyrail are incredibly proud to take more significant progress towards our ambition to become the first rail network in the UK with full accessibility for all.
"I know that for local residents and visitors to this area, the new lift will be valued and appreciated – and help ensure all of our customers receive the very best service, which they deserve.
"It's great to share moments like this with local people who will benefit from the work that has been completed here, and we're already looking forward to more new lift facilities being completed across the Merseyrail network in the near future."