News
New bee-friendly bus shelter with 'living roof' installed at Mersey Ferries terminal
The roof of a new bus shelter in Wirral has been transformed into a blanket of lush greenery to help attract bees and bring more biodiversity to the local area.
The bus stop and its living roof, part of a recent major revamp of Seacombe Ferry Terminal, has been installed in partnership with Liverpool City Region Combined Authority and Wirral Council by Clear Channel, who manage bus shelters in the region.
Nicknamed 'Bee Bus Stops', living roofs have been popping up in towns and cities around the country – from Glasgow to Brighton – but this is the first in the Liverpool City Region.
Designed with expert ecologists, the roofs of the shelters are planted with native wildflowers – including kidney vetch, thyme, selfheal and wild marjoram – chosen to attract bees, butterflies and other pollinators.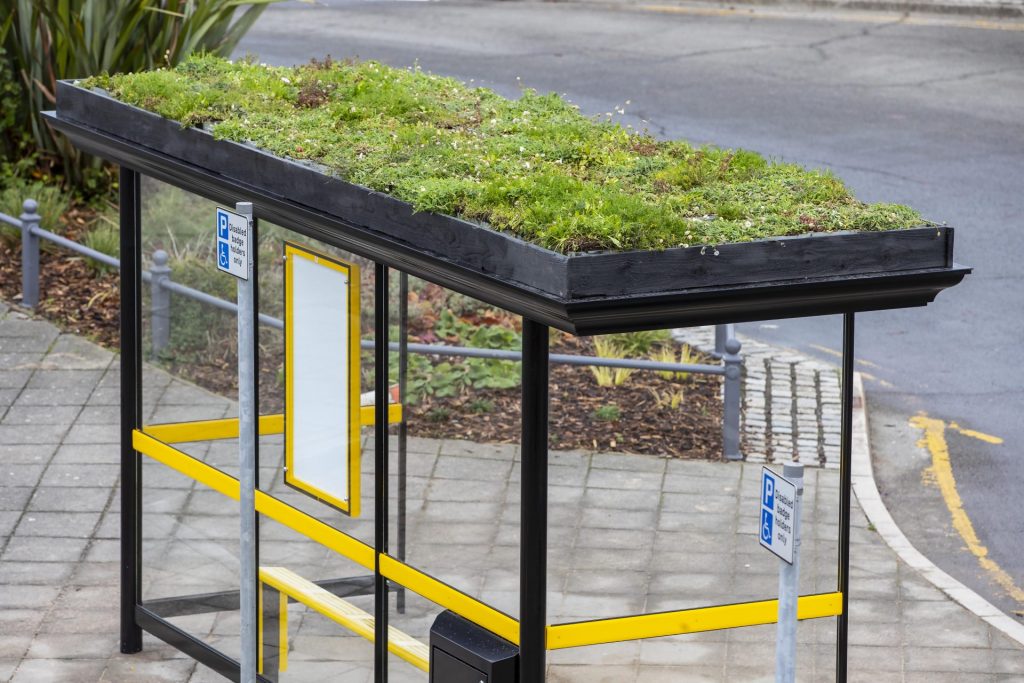 The green 'Bee Bus Stop' has been installed just outside the brand new Eureka! Science + Discovery attraction, which is due to open later this week.
It is hoped that the new Living Roof will be followed by more of its kind at locations across Halton, Knowsley, Liverpool, Wirral, Sefton and St Helens as part of Mayor Steve Rotheram's commitment to creating a cleaner, greener city region.
Launched in 2021, Mayor Rotheram's £1m Community Environment Fund has supported nearly a hundred local grassroots environmental projects – including beekeeping, food planting and climate awareness – across the Liverpool City Region.
Cllr Liam Robinson, transport portfolio holder for the Liverpool City Region said:
"In the Liverpool City Region, we are working non-stop on a range of major transport projects to accelerate our transition to net carbon zero by 2040 – whether that's rolling out new state-of-the-art trains with energy-efficient battery technology or introducing top-spec zero-emission hydrogen buses.
"But addressing the climate emergency doesn't always mean reaching for hi-tech solutions – this 'living bus stop', with a mini wildflower meadow on its roof, will help improve the biodiversity of the local area.
"It's just one of the small changes that, taken together, can make a huge difference to air quality and the environment. We'll be working with partners to explore how we can install many more of these 'living roofs' at shelters across the city region in the months and years to come."
Cllr Liz Grey, Chair Environment, Climate Emergency and Transport Committee at Wirral Council said:
"It's fantastic to see the first 'bee bus stop' in the city region here in Wirral. Not only will the project help attract pollinating insects, it also makes something as practical as a bus shelter into a beautiful feature.
"The green roof should become a riot of colours in spring and summer when the plants begin to blossom, making it an attractive place for people, as well as bees and butterflies, to spend time."
Will Ramage, Clear Channel's Managing Director said:
"It makes our world feel a little better knowing our Bee Bus Stops are about to take root in Wirral.
"The Liverpool City Region has made a decisive first step by installing this environmentally conscious bus shelter and I'm exceptionally proud that we're able to play a part in making the city even greener and more sustainable."
Leigh-Anne Stradeski, CEO at Eureka! Science + Discovery said:
"One of our key themes here is nature and the ways in which we can all take action, large or small, to work towards a more sustainable future for ourselves, other species and the planet.
"With this in mind, we think the living bus shelter creates a brilliant indoor-outdoor connection for the thousands of children, young people and families who will visit us in the coming years."